The disadvantage chasm
27.01.21
Our new report shows that the number of pupils from poorer backgrounds rose across many parts of the country even prior to the pandemic, and finds that long-term disadvantage is having a growing impact on academic performance.
We compared numbers of secondary schools with a high level of long-term disadvantaged high impact pupils between 2017 and 2019, as well as analysing attainment at GCSE level.
There has been a sharp increase in the number of these schools in just one year, rising by 16% between 2018 and 2019. At the end of the 2018/19 academic year there were 537 schools in England with at least 10% of their Year 11 pupils in the long-term disadvantaged high impact group.
These schools were found to be largely concentrated in the North, with 25% in the North West alone, as well as parts of the West Midlands.
However, it appears the problem is now growing across other parts of the country as well, with the South West, South East and the East of England showing the greatest increases.
The report looked at long-term disadvantaged pupils in secondary school who had spent at least 80% of their time in school on free school meals, as well as those from "high impact" groups, primarily from White British and Black Caribbean backgrounds.
10.1 per cent of pupils in the North East were found to fall into this category – double the national average. The North West was found to have the second highest proportion of these children, with 7.3 per cent, followed by Yorkshire and the Humber with 6 per cent.
In contrast, just 2.8 per cent of pupils in Outer London were found to be long-term disadvantaged high impact.
The impact of long-term disadvantage on attainment also appears to be increasing. 71% of schools with high numbers of long-term disadvantaged saw their attainment significantly below the national average for Pupil Premium children – an increase from 67% in 2018.
The report adds to growing concerns around a crisis in education given that the data used was taken even before COVID-19.
The pandemic has exacerbated many of the existing disparities in the education system, leaving long-term disadvantaged children more vulnerable to the impact of the digital divide and disruption to schooling pre-Christmas.
According to analysis of Department of Education data, the ten boroughs in England where children's education was most disrupted between September and mid-December were all areas where deprivation is worse than the national average.
In 2011 the Government introduced Pupil Premium to direct additional funding to disadvantaged pupils in an effort to close the divide between poorer children and their peers.
The education disadvantage gap then steadily narrowed until 2017, when progress stalled and the divide began to widen again in 2019, according to analysis published in August.
NPP is calling for £34m to fund a mentoring programme for disadvantaged GCSE pupils in the North, scaling up the existing GROW mentoring scheme funded by the local authority in Barnsley.
The programme links children with recent graduates from Sheffield Hallam University, who are trained to provide academic and wellbeing support and guidance.
NPP is calling on universities from across the North to recruit their recent graduates and the class of 2021 to help deliver this programme to the most vulnerable young people in their regions.

Lord Jim O'Neill, vice-chair of the Northern Powerhouse Partnership, said: "It goes without saying that this past year has deepened the divide in our educational system but this report shows that the situation was far from perfect even before the pandemic.
"We've gone past the point where this is simply a disadvantage gap; what we're talking about is a disadvantage chasm.
"Driving up educational standards among all children and young people has always been and remains one of the cornerstones of the Northern Powerhouse vision.
"We now need bold, swift action from the government. Firstly, a northern mentoring programme for every disadvantaged pupil at GCSE level. Secondly, emergency funds to support pupil premium recipients and reform to target this at the most vulnerable. Lastly, we need measures to address place-based issues that take place beyond the school gate.
"Continued confusion or delayed action would permanently damage the futures of a generation of young people – at the exact moment when we most need their skills and talent to drive a recovery and level up the country."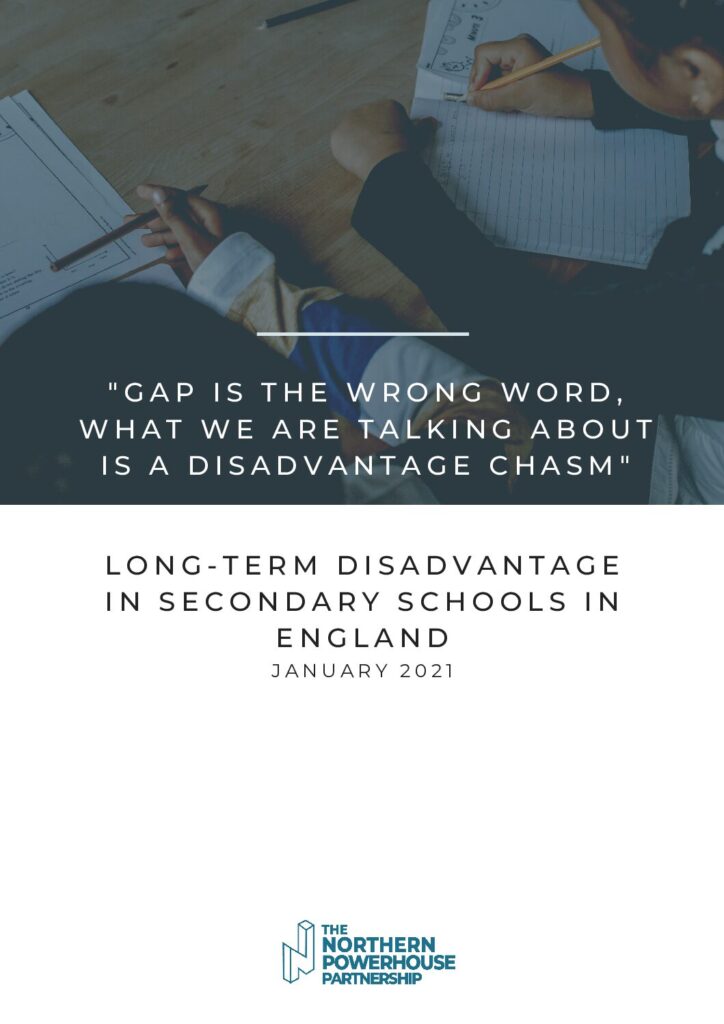 Get involved...
There are a number of ways you can help drive forward the Northern Powerhouse agenda.
Our Members
Working with businesses and organisations across the North